Hear from the Authors of n=1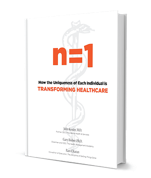 "Global trends such as digitization and scientific discovery are accelerating the transformation of healthcare. The authors of n=1, who are well qualified to address these issues, have nicely described how leaders and trustees of healthcare organizations need to be aware of global trends and incorporate them in the strategy development process."
Marna Borgstrom,
President and CEO, Yale New Haven Health System
Meet the Authors of n=1

John Koster, M.D.
John Koster, M.D., recently retired as the CEO of Providence Health & Services, one of the largest health systems in the U.S., with over 67,000 employees, 33 hospitals and operations in five western states. Dr. Koster was chief medical officer prior to becoming President and CEO. He was selected as one of Modern Healthcare magazine's 50 Most Influential Physician Executives. Prior to joining Providence, Dr. Koster served as senior vice president of VHA, Inc. He has also held senior leadership positions at Presbyterian Healthcare Services in Albuquerque, New Mexico and at Rocky Mountain Healthcare Company in Denver, a regional BCBS plan. His clinical practice was in emergency medicine and internal medicine where he is board certified.

Gary Bisbee Jr., Ph.D.
Gerald E. Bisbee, Jr., Ph.D., MBA, is co-founder, Chairman and CEO of The Health Management Academy. His leadership positions have spanned Wall Street, academia, health policy and entrepreneurial ventures in information technology, health services and medical devices. He has been a faculty member in graduate management programs at Yale and Northwestern Universities, President of the Health Research and Educational Trust, the research and educational affiliate of the American Hospital Association and Director of the Healthcare Services Group at Kidder Peabody & Co. His MBA is in healthcare and finance from The Wharton School of the University of Pennsylvania and his Ph.D. is from Yale University in chronic disease epidemiology.
Follow or Connect with Gary on LinkedIn.

Ram Charan
Ram Charan is the coauthor of the bestsellers Execution and Confronting Reality and the author of What the CEO Wants You to Know and 18 other books. A noted expert on business strategy, execution, building high performance organizations, 21st century leadership, corporate boards and succession, he has worked with leaders of some of the world's most successful companies, including GE, Bank of America, Verizon, Coca-Cola, 3M, Merck, Aditya Birla Group and Tata Group.
Read more about Ram Charan and his books at www.ram-charan.com.
About n=1
n=1: How the Uniqueness of Each Individual is Transforming Healthcare
n=1 is a symbol of the uniqueness of individuals which is at the core of healthcare transformation. Health leaders will need to fully embrace the changing preferences and demands of the n=1 as the evolution of healthcare unfolds.
The unique individual is emerging as the driving force in the transformation of healthcare. Scientific discovery is revealing the importance of our biologic individuality. At the same time, the digitization and associated democratization of information is awakening the individual's desire to behave and be treated as unique. Changing financial incentives add fuel to the fire.
Consumers and providers are assuming greater financial and patient care risk. Individuals will increasingly have access to information specific to their biology and financial and treatment preferences. This is profoundly shifting individual care expectations and creating behavior changes that are accelerating healthcare transformation.
To successfully adapt, healthcare leaders must develop the incisive questions that challenge the orthodoxies hindering the rapid organizational transformation required for success. The complexities of healthcare require diversity in thinking and approach. The transformative ideas presented in n=1 are a unique collaboration between physician health system CEO John Koster, venture capital entrepreneur Gary Bisbee, and leading global business advisor, and best-selling author on business transformation, Ram Charan. Combining the insights from these three authors, n=1 provides insights into the forces transforming the U.S. healthcare system. The experience of the n=1 authors indicates leaders of successful non-health organizations have developed cultures of inquiry to guide their organizations through dramatic market changes.
For group order discounts, please email David at Prospecta Press.
What people are saying about n=1
"The authors of n=1 deliver a well-reasoned and compelling analysis of how the new healthcare consumer is driving the evolution of the health care ecosystem. They put a finer point on the complexities that health plans and providers must contemplate as they transform to better serve an informed consumer."
"The knowledgeable and insightful authors have outlined in n=1 how global trends are driving change. They offer important suggestions for all healthcare leaders who are striving to advance patient health and well-being."
"Leaders of healthcare companies and newly minted entrepreneurs would do well to read and follow the suggestions found in n=1."
"Asking, and then answering, the "right question" is essential to the ultimate success of any organization. This seminal work is a must read for any Board member committed to asking the right questions and supporting their CEO and leadership team to navigate the challenges and opportunities of transformation in healthcare."
"The authors of n=1 discuss the factors transforming health care today and provide an important strategy construct for leaders across the health care ecosystem."
"I am a firm believer in n=1. The needs of the individual come first and if we keep the individual in our focus we can transform healthcare delivery, improve health of individuals and thereby improve the health of populations. In order to do so, integration and coordination of a health system is needed."
"n=1 highlights the challenges and opportunities facing American healthcare in the era of big data, engaged and knowledgeable consumers, much greater transparency and enormous pressures to control cost while improving quality and service. I highly recommend this book to healthcare leaders and policy makers in their quest for a better health outcome for all Americans."
"In an age of rapid health care innovation, the private and public spheres must work in concert to ensure that health system change translates into real improvement for patients, providers and purchasers alike. Policymakers looking to stay on top of the innovation cycle and how it's impacting organizations on the front lines of our evolving health care system will find no better resource than n=1 and its intrepid authors."