The Academy Lumeris Strategic Survey - Q1 2018: Strategic Priorities, Consolidation & Market Share
Melissa Holloway, Health Services Fellow, The Health Management Academy
Melissa Stahl, Senior Research Manager, The Health Management Academy | June 27, 2018
Key Findings
Leading Health Systems continue to prioritize cost reduction and revenue generation to improve patient experience, and plan to invest in Information Technology (IT), innovation, and clinical developments in 2018.
The majority (56%) of health systems participated in an acquisition in Q4 2017, with half (50%) of responding systems acquiring a physician practice or medical group and 11% acquiring a hospital/rehab/long-term care facility.
Health systems are operating in relatively consolidated markets, with the largest two health systems controlling two-thirds (67%) of the market share in their largest market, and most (56%) expect to see this share increase in 2018.
Leading Health Systems Increasingly Prioritize Patient Experience, and Invest in Information Technology (IT), Innovation and Clinical Developments
Leading Health Systems have a wide variety of strategic priorities in 2018, primarily focused around improving the patient experience (Figure 1).
"We want to ensure a great human interaction at every exchange. We want to maximize the use of our intelligence to drive personalized care, enhance relationships with our patients and families, and improve patient satisfaction overall." (CMO)
In 2018, Leading Health Systems will also continue to focus on reducing costs, which can in turn drive investment into all of their clinical priorities.
"We hope to cut costs as we continue to integrate further, reduce variation, engage physicians, and work toward one standard of care. This is good for the consumer and for us." (CFO)
Similarly, Leading Health Systems continue to focus on growth, both to expand their geographic footprint, and to diversify their revenue streams to increase their income and further drive investment into their operational and clinical areas.
"We continue to grow and evaluate our strategic affiliations, especially on the health plan side. We are actively working on this and methods we can use to see the implications." (CSO)
Responding health systems reported the largest 2018 budget increases in the areas of information technology (IT), innovation, and clinical investments, which include workforce alignment/engagement, employee retention and development, and pharmacy.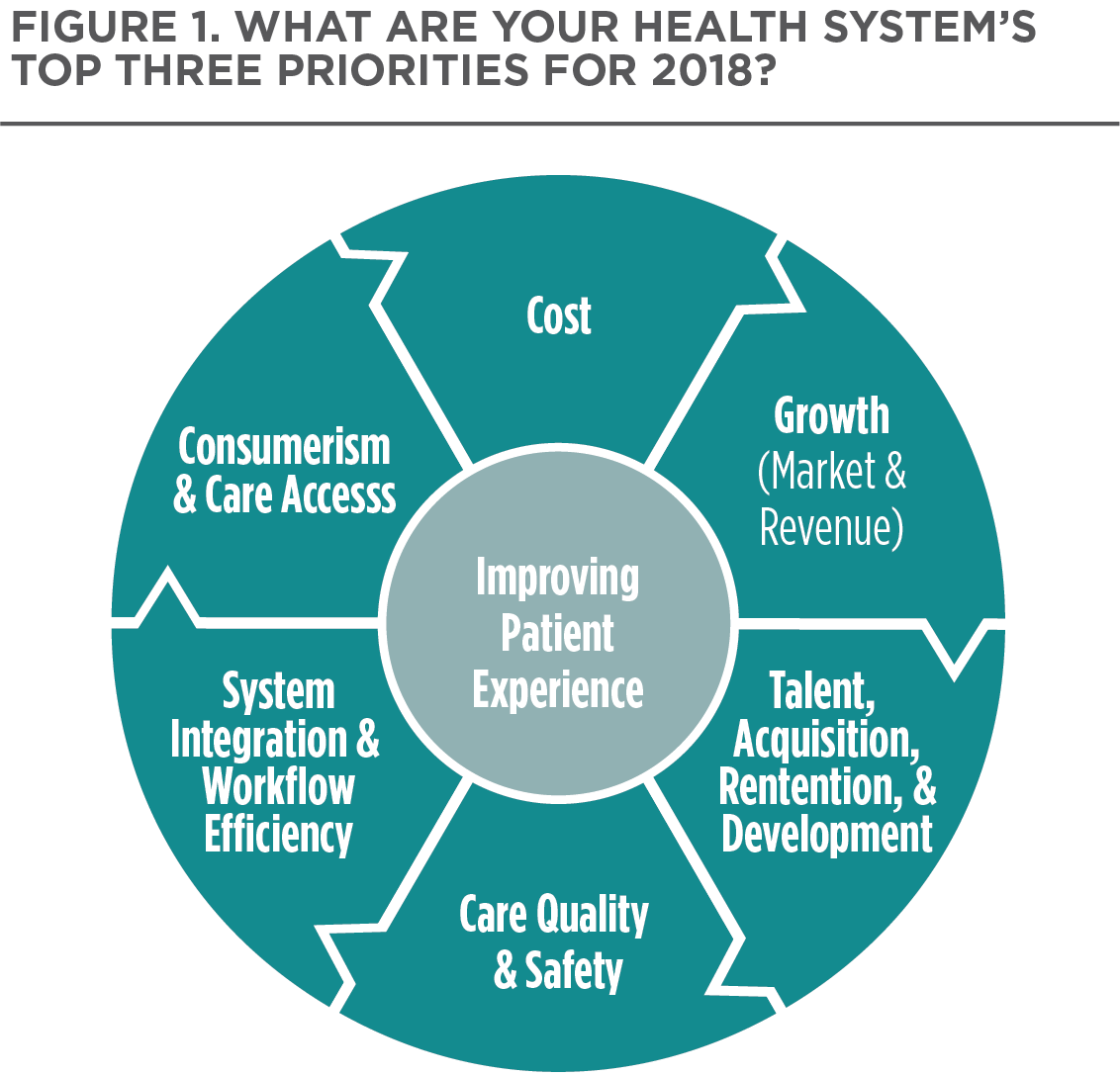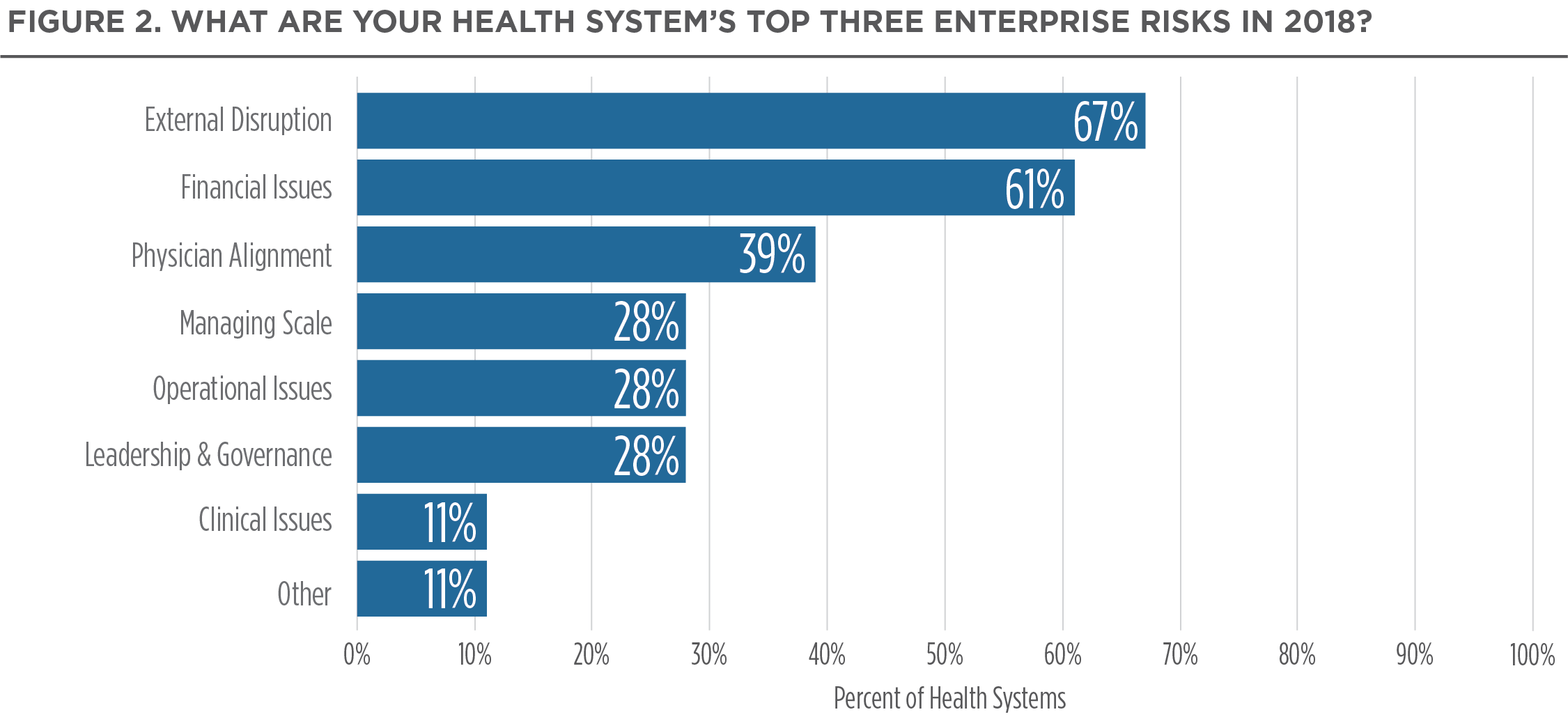 "Information Technology has seen our largest increases over the last several years and that continues in 2018. Significant increases are targeted around data and system security." (CMO)
Health system executives also reported that they are directing more resources into clinical areas including pharmacy as well as training, continuing education, and leadership development of clinical employees and staff.
"We've really pulled some resources the into talent development and leadership development over the past two years." (CSO)
Leading Health systems have also focused on investing in innovation, which ranges from forming new partnerships to investing in digital health to updating existing consumer-facing platforms.
Over two-thirds of Leading Health Systems report that one of their top enterprise risk in 2018 will be external disruption (67%) such as payment/delivery model transformation, governmental policy and regulatory changes, and/or payor mix and payment changes (Figure 2).
"External disruption is a huge risk, especially in our state. Not only are we worried about the payors, but some of the new innovative partnerships we are seeing. This will create a lot of competition." (CFO)
Reflective of Leading Health System's focus on cost reduction, a majority of respondents (61%) rated financial issues (e.g., cost structure, price, margin pressure) as a top enterprise risk in 2018 as well.
"Failure to control costs is our greatest risk. Reimbursement is low and cost increases are coming at us aggressively. Additionally, everybody else's labor costs are going up and that's going to hurt our cost reduction strategy." (COO)
M&A Activity Increases in the Form of High-Value Deals
In the fourth quarter of 2017, the volume of US healthcare of deals decreased, though the value of these deals increased significantly, up 468% from Q3 2017 and 424% in a year over year comparison. Overall, deal value increased 146% from 2016 to 2017, while deal volume slightly decreased (1). These data suggest that deals are happening among the largest and most profitable healthcare organizations, and the number of deals is decreasing as those large organizations acquire a larger share of their markets.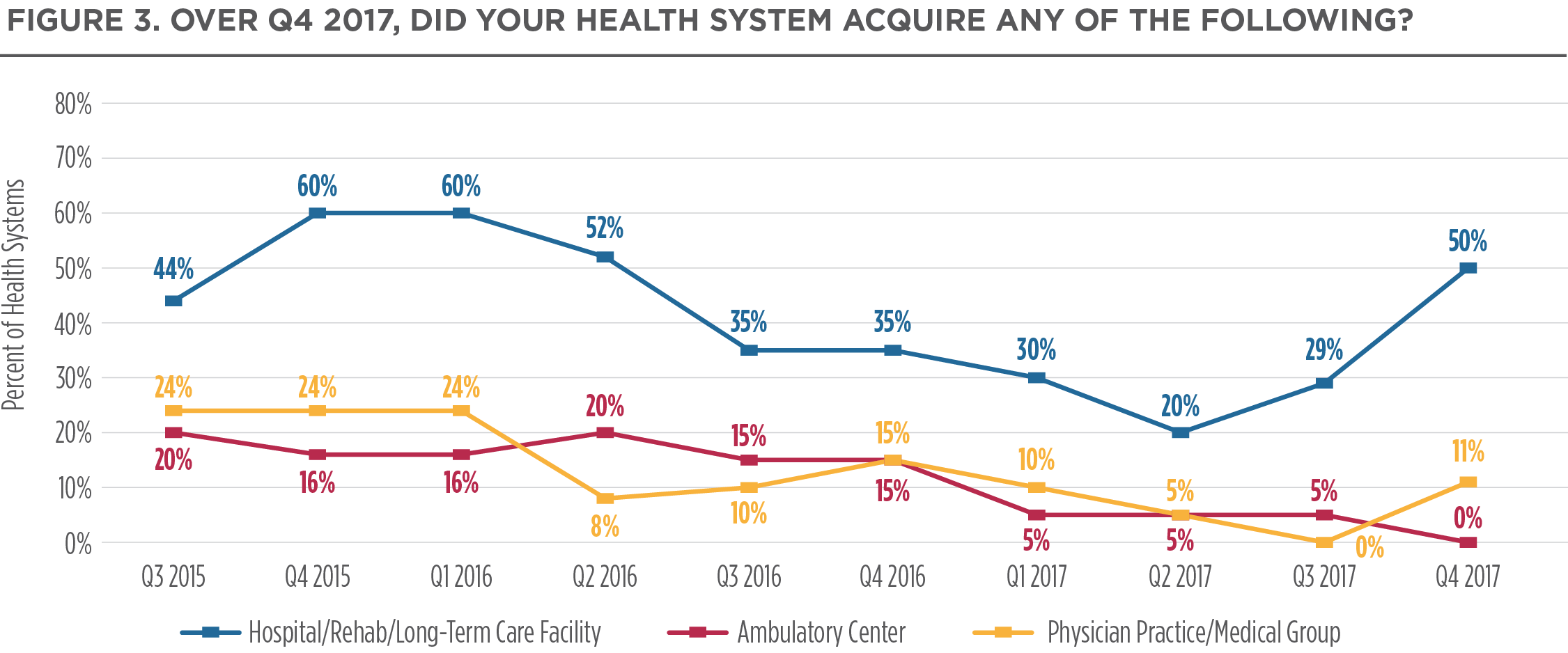 In accordance with these trends, acquisitions increased through Q4 2017 among Leading Health Systems, with 56% of responding health systems participating in a transaction, almost all of which acquired a physician practice, medical group, or hospital/rehab/long-term care facility (50%) (Figure 3).
Health systems predict an increase in their M&A activity in the first two quarters of 2018, with the majority of responding health systems (67%) reporting that they anticipate a transaction in Q1-Q2 2018, increasing twelve percentage points from the 56% in Q4 2017.
Aligning with 2017 trends, health systems also plan to focus on acquiring physician practices into the future, with a plurality (44%) of responding health systems expecting to acquire a physician practice or medical group in Q1-Q2 2018 (Figure 4).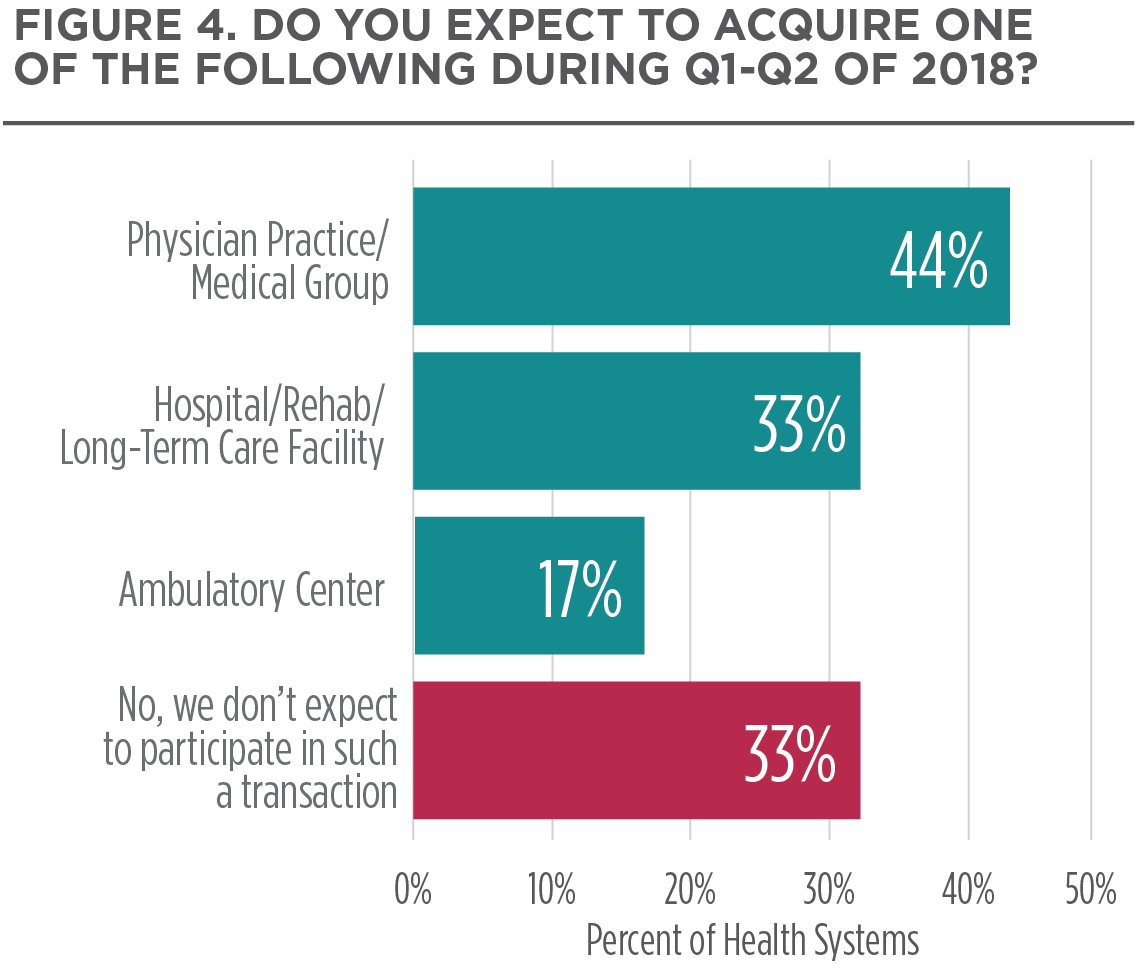 Health Systems Markets Continue to Consolidate
The market in which responding health systems operate is relatively consolidated, with the largest two systems controlling two-thirds (67%) of the market (Figure 5). Executives from responding health systems reported an average inpatient market share of 40%, with their largest competitor owning an average of 27%.
In approximately one-third (30%) of responding health systems, the health system controls 50% or more of the market share.
Overall market share among Leading Health Systems increased slightly in 2018, from an average of 38% in 2017 to 40% in a year over year comparison, reflective of consolidation trends and continued acquisitions of physician groups, medical groups, and hospitals.
Many health systems expect to see their market share continue to increase, with over half (56%) expecting an increase in market share over the next 12 months (Figure 6).
"We expect to see a bullish increase in market share as we continue to make clinical investments and align all of our physicians." (CFO)
Slightly fewer executives (39%) expect market share to stay the same. These systems report that they exist in stable markets, where they own a comfortable plurality or majority of the market share, and intend to focus more so on alignment and integration than growth.
"I would anticipate our share to remain stable or increase slightly. We are a stable market, but not growing at the current time." (CMO)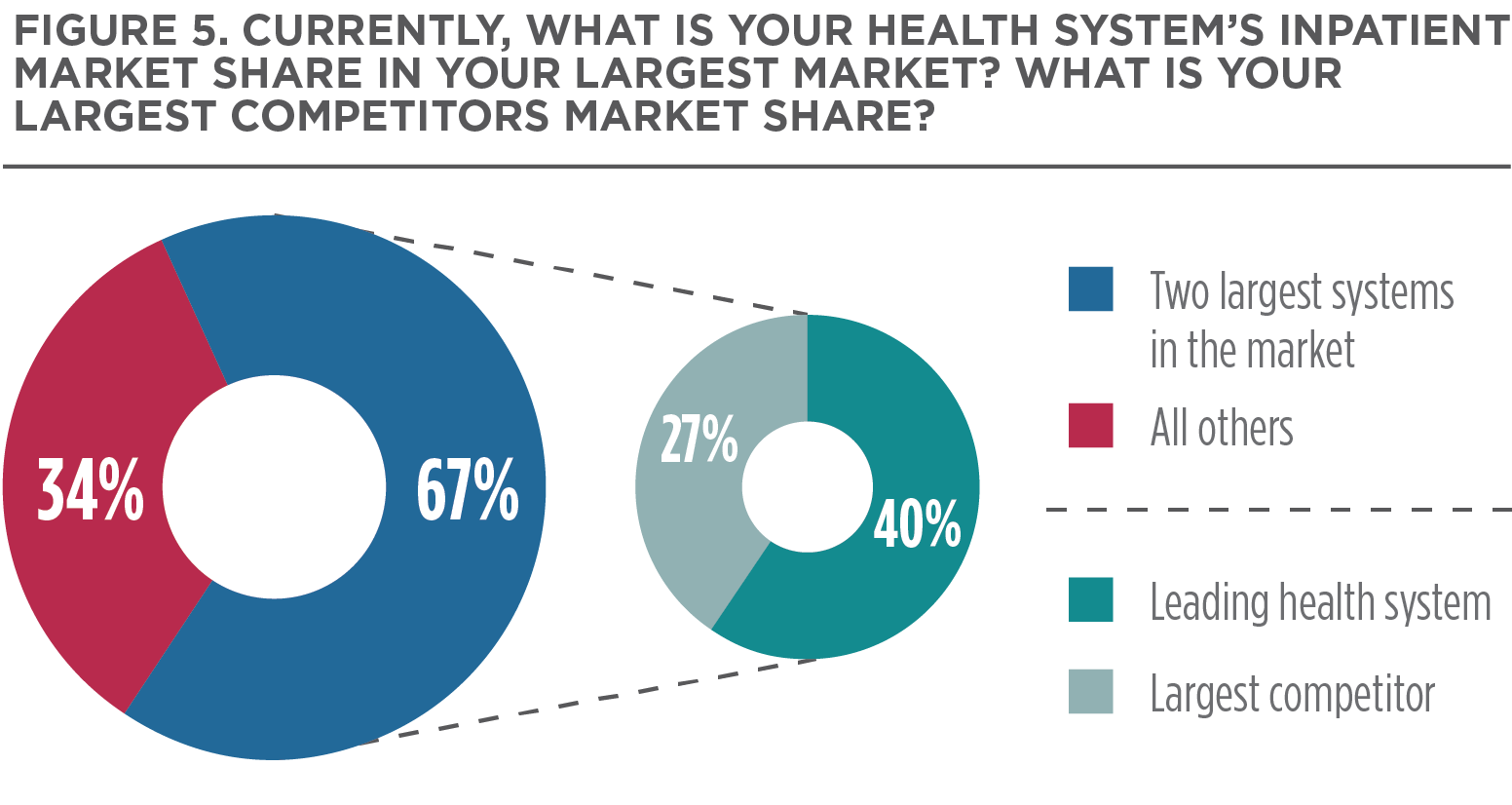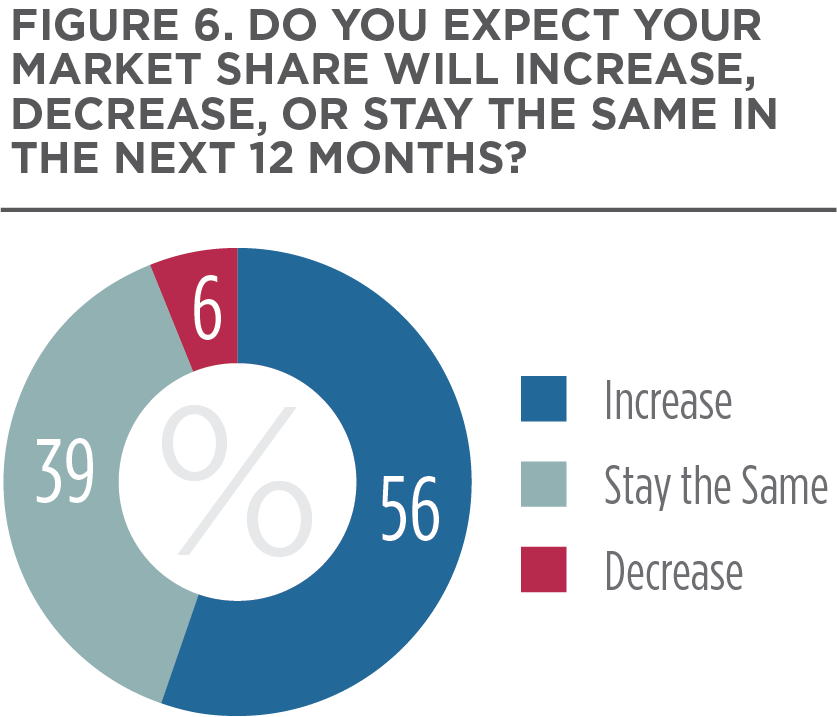 Profile of Participating Health Systems

Participating Health Systems