Disruption's Clarion Call for Adaptive Leadership
David Johnson, CEO, 4sighthealth | August 9, 2017
From Atul Gawande's intensely-personal fireside chat through Charlie Rose's high-wire panel discussion on political disruption, this year's CEO Summit hummed with energy, insights and a clear sense of purpose. The Academy's CEO community gathered a stone's throw from Manhattan's Trump International Tower in late July to probe the topic of "CEO Leadership in an Age of Disruption."
It was telling that Summit's formal programming occurred on July 20th, the 48th anniversary of the first moon-landing. Big ideas were in the air. Author Tom Friedman's address, Thriving in an Age of Accelerations, kicked off the proceedings. Friedman encapsulated the current leadership challenge of managing organizational transformation during a period of relentless, accelerating change in a world where "everyone is connected and no-one is in charge."
Friedman borrowed the following graphic from Google's Eric "Astro" Teller to illustrate today's leadership conundrum. Teller's official title at Google X (the company's research and development lab) is "Captain of Moonshots." He believes for the first time in history, the rate of technological change is greater than human adaptability. This emergent reality is a profound source of human discontent.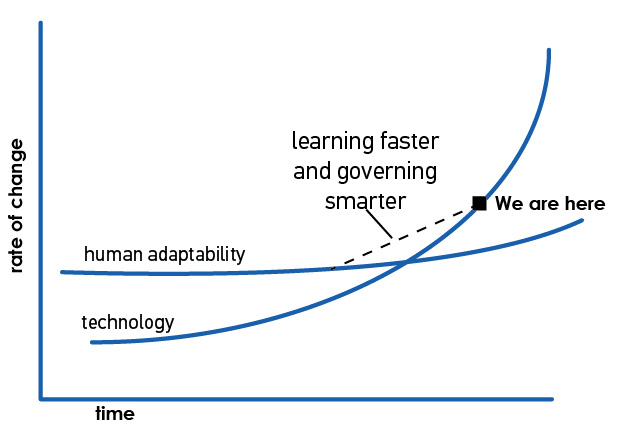 Teller believes the only way for society to adapt is for individuals to learn faster and for organizations to govern smarter. In this sense, disruption is an organic component of all business environments.
As with natural selection, companies that "survive" will be those that continually experiment, discover innovative business practices and integrate them quickly into operations. Engage customers and earning their loyalty establish "market fitness," the ultimate determinant of organizational success and sustainability.
With the playing field established and rules for managing disruption codified, subsequent speakers dug into the topic with gusto. Here are a few riveting insights from the day's deliberations:
Google Board-member Diane Greene described how cloud-based computing makes data "available immediately and infinitely scalable." The "next big frontier" is applying machine-based learning to mine these "data oceans" to enhance prediction, empower decision-making and deliver ever-improving outcomes. This "improvement," however, comes with complex logistical, governance and regulatory challenges.
Internet savant Mary Meeker described an ever-changing consumer marketplace where "customers and great products find one another faster than ever." New companies can gain market traction at low-cost and adapt products based on real-time customer feedback without high overhead costs. This places enormous pressure on established brands to understand changing customer preferences and continually win their loyalty. At the same time, brand strength is more powerful than ever for "products that people love."
IBM's Eric Brown prefers the term "augmented intelligence" to "artificial intelligence" because it captures how machine-based learning can enhance human decision-making. Brown envisions a "three-layer cake" with data at the base, algorithms in the middle and applications at the top. Brown's "cake" incorporates "insights into workflow." He believes there will be Amazon "Echo-like" capabilities in clinical exam rooms within 3-5 years that will suggest diagnoses and treatments. That's why IBM is sending Watson to medical school at the Cleveland Clinic.
In a panel discussion on media disruption hosted by The Academy's Chairman & CEO, Gary Bisbee's, Hearst Media CEO, Steve Swartz described the massive staff cuts required to stay competitive in a media environment where terrific content is available for free. When pressed, Swartz observed that he'd make even deeper cuts faster when confronting similar disruptive threats.
Forum Co-Chair John Doerr led a spirited discussion with four healthcare start-up CEOs. The entrepreneurs' collective enthusiasm for finding innovative solutions to tough healthcare problems was infectious, but also cautionary. Unprecedented levels of smart venture funding are flowing into provider-based healthcare. These start-ups are attacking the industry's inefficiencies. They'll win by delivering better, more convenient healthcare services at low costs. Some will partner with health systems to deliver better outcomes more efficiently. Others will dis-intermediate health systems from their customers.
As important as the CEO Summit's shared learning, is its shared commitment to improving U.S. healthcare. Healthy communities advance through trust, collaboration and adaptation. The Health Management Academy creates health system communities that can share insights and frustrations with candor and mutual respect. This advances industry transformation and exemplifies complex, adaptive leadership in action.