AN INNOVATIVE WAY FOR TOP-100 HEALTH SYSTEM LEADERS TO ACCELERATE GROWTH
Founded in 1998, The Health Management Academy is exclusively comprised of executive members from the country's largest integrated health systems and a strategic balance of the industry's most innovative companies. Executive members exchange best practices and benchmark information on increasing the quality and efficiency of healthcare. The Academy is a knowledge source for identifying and monitoring tactical and strategic issues. The Academy's model of educational programming assesses the top priorities of its members, monitors the organization and development of large health system executive teams and facilitates structured interaction among its health system members. Peer-focused, problem-solving based programs—where the latest Academy research, policy analysis and expert views on the issues driving healthcare are analyzed and discussed—create the foundation for developing the leadership strategies and skills needed to guide strategically critical health system decisions. The Academy is an accredited CE provider.
EXECUTIVE ALIGNMENT
A carefully integrated learning approach
System-wide executive alignment
EXCLUSIVE FOCUS
The "who's who" of Top-100 health system & leading industry executives
UNIQUE PERSPECTIVE
Where health system transformation decisions are made
Top-100 viewpoints are framed
THE ACADEMY EXPERIENCE
Deep connections are created and sustained
Foundation of respect & understanding
Access to Knowledge & Insights
The highly collaborative Academy Top-100 Programs enable members to cultivate the perspective, support, knowledge and relationships unavailable anywhere else. Executive peer learning, rigorous leadership development and health system-focused research help members elevate performance to solve their health system's most pressing issues. AcademyNet unlocks this collective intelligence online, with 1-click digital access.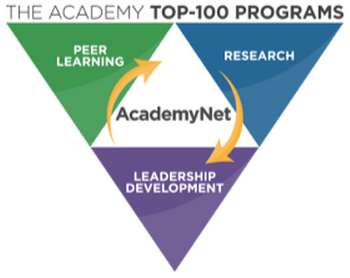 Exclusive Membership
Membership includes a purposeful balance of executives from the country's largest integrated health systems and executives from the world's most advanced companies offering critical industry knowledge. This collegial interchange of ideas and best practices accelerates business growth while shaping the future of healthcare delivery in America.